Steve Metzinger, Matlock's Servo Manager shares his thoughts on diagnostic equipment that's ahead of the curve.
The first step in repairing a Servo motor is diagnostics.  Our test equipment is tied directly into Mitchell Instruments test servers.  When we enter your motor's serial number, our licensed access gives us the most up-to-date feedback specific to your motor.
Testing motors more efficiently and accurately allows us to get to the repairs faster so your motor back is back in operation sooner.
Once a diagnosis is made on your Servo motor, you have two choices when it comes to repairs – send it back to the manufacturer or take it to Matlock.  Manufacturer repairs can mean a longer wait time and a higher price tag.  At Matlock, we get to it right away and we repair it right the first time.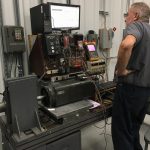 Investing in the latest diagnostic equipment and technology is just one of the reasons Matlock has a reputation of service and quality.  We may not be the cheapest repair shop out there but you get what you pay for.   Our quality of service is above everybody else.
Technology is changing the landscape of the motor industry.  Every day can be a learning experience. Having reliable instruments that are staying ahead of the curve is critical to making timely repairs and providing you with the service you expect.
Have a motor question?  Give us a call (513) 731-9600 and download our Servo line card.
Yesterday's Service.  Tomorrow's Technology.  Today.